NSW/ACT Draft Update
For the first time in its history, the national draft has descended upon Adelaide and the City of Churches – along with the best young football talent in the country – is buzzing with excitement.
NSW/ACT has had just five top ten picks in the Draft's 30-year history, and with a possibility of three top ten picks in a single Draft, 2015 could be a watershed year for football in the region.
Broadcast Details
NAB AFL DRAFT – Adelaide Convention Centre
Tuesday 24 November
Begins: 6:00pm local time (6:30pm AEDST)
Concludes: 8:30pm local time (9:00pm AEDST)
LIVE: Fox foOTY (Channel 504)
LIVE: afl.com.au
Additional resources
MEET THE NSW/ACT ACADEMY PROSPECTS
---
By Callum Twomey
This year's draft has been one of the most challenging in years for experts to predict, with both the even spread of talent and the distribution of picks in the top 10 making it tough.
Here is how AFL.com.au's draft expert Callum Twomey sees the first 30 picks panning out, including the impact of the new bidding system. Be sure to click through all the links for exclusive stories and video telling the stories of this year's crop of young talent.
After the top 30, keep reading for Cal's club-by-club rundown of how the remainder of the draft could pan out on Tuesday night.

JACOB WEITERING
DOB: 23/11/97; Height: 195cm; Weight: 90kg
Dandenong Stingrays
Draft Trumps: Meet Jacob Weitering
Weitering is the best player in the draft and will be a deserving No.1 pick. The key defender pieced together an excellent season from start to finish and placed himself at the top of the draft with his imposing play in the backline. Weitering is a brilliant overhead mark and has a long accurate kick. He has carried the tag as the likely No.1 choice without fuss throughout the year and will welcome the big expectations that will be placed on him in the AFL. The Blues can pick him knowing he will be a long-term part of their plans.
If not him? It would be one of the all-time draft surprises if Carlton calls out anyone else's name at No.1. Weitering has been linked to the first choice all year and appears set to join the Blues.
Click to read Jacob Weitering's profile and watch his highlight reel
Jacob Weitering has loomed as the likely No.1 pick all year.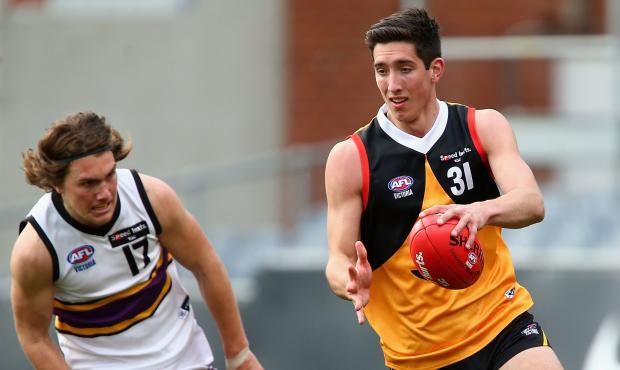 JOSH SCHACHE
21/8/97, 199cm, 96kg
Murray Bushrangers
Draft Trumps: Meet Josh Schache

Schache put his scores on the board early, and just kept kicking goals throughout this year to cement himself near the top of the draft order. The key forward is an excellent shot for goal, has a great engine plus the height to outmark most of the defenders he's matched up against. He kicked a record haul of 24 goals at the under-18 championships and is not a forward who needs heaps of touches to make a scoreboard impact. The Lions have identified the need for a key forward, Schache has a link there given his father Laurence played for the Bears in the 1990s, and he is happy to move from Victoria. It's a nice fit.
Schache keen to finish off his dad's work at Lions
If not him? The Lions are locked on to Schache. If they held pick one they might well have taken him in that spot too.
Click to read Josh Schache's profile and watch his highlight reel
Josh Schache put together a record-breaking campaign at the championships.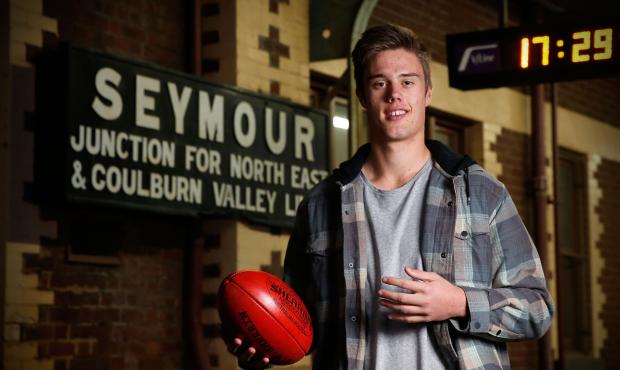 CALLUM MILLS (matching Melbourne's bid)
2/4/97, 186cm, 80kg
North Shore/Sydney Swans Academy
Draft Trumps: Meet Callum Mills
Mills looks set to be the first player to have a bid made on him during a live draft as the AFL unveils its new bidding system. Melbourne has been tipped to place a bid on Mills at pick No.3, which would see the Swans asked to match the bid by moving up from pick No.33 and their next couple of picks move to the back of the draft. Mills is a competitive and tough midfielder who, despite missing most of this season with injury, is still one of the most talented players in the draft. He starred at NEAFL level last year as a bottom-ager and will play a significant amount of senior footy next year for the Swans.
Code-swapper Mills might be draft topper
If not him? The Swans' first selection won't be anyone else. They'll match the bid wherever it comes because Mills is too good to miss.
Callum Mills remains hot property despite missing most of 2015 through injury.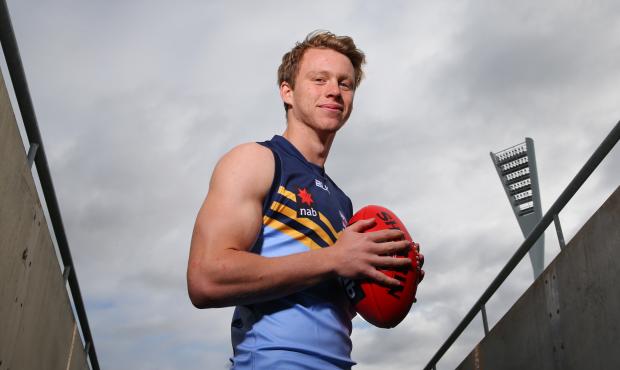 CLAYTON OLIVER
22/7/97, 187cm, 86kg
Murray Bushrangers
Draft Trumps: Meet Clayton Oliver
Few (none?) would have predicted six months ago that Oliver would be a top-10 pick. But now that seems one of the draft's most likely scenarios, with a clump of clubs keen on the tough, physical and big midfielder. The Morrish medallist kicks goals, marks well above his head and has an explosive streak that sees him dominate clearances. He also presented well and tested impressively at the combine last month, which further boosted his stocks. Melbourne has shown strong interest in Oliver, and he probably wouldn't be available at its next pick a few spots back. If they want him, they'll probably have to grab him here.
Morrish medallist adds top-10 twist to draft
If not him? Sam Weideman and Darcy Parish are the other main contenders here. Weideman would fill a need as a young developing key forward but has some fitness concerns, while midfielder Parish has always been in the mix for the Dees. And is Aaron Francis completely out of the equation?
Click to read Clayton Oliver's profile and watch his highlight reel
Explosive midfielder Clayton Oliver should be taken early in the draft.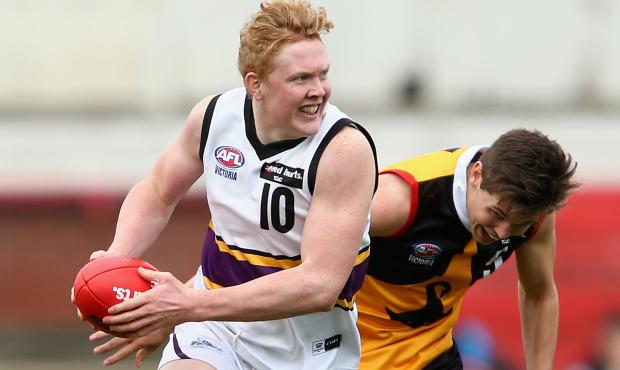 AARON FRANCIS
10/8/97, 191cm, 86kg
West Adelaide
Draft Trumps: Meet Aaron Francis
Francis was tipped as a contender for the first selection early in the year, but his form later in the season saw him drop in the eyes of some recruiters. The powerful defender is able to control games as a third tall, but in his stints up forward and in the midfield he has also been able to have a big say on games. The question is his endurance and whether he will be able to play the similar third tall role at AFL level, but clubs know his innate competitiveness will hold him in good stead. Essendon has liked him for some time and Francis is a Bombers supporter who has made it clear he wants to head to Tullamarine.
Francis stamps credentials in SA's big U18 win
If not him? The Bombers have a number of options here. Sam Weideman, Charlie Curnow and Harry McKay could be in the mix as talls, while Clayton Oliver and Wayne Milera are also possibilities.
Click to read Aaron Francis' profile and watch his highlight reel
Aaron Francis' strength and versatility make him a compelling prospect.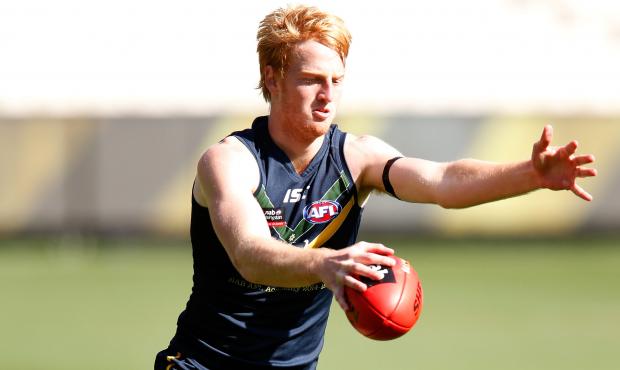 • Want even more vision of this year's draftees? Check out the Draft Machine

DARCY PARISH
25/7/97, 181cm, 73kg
Geelong Falcons
Draft Trumps: Meet Darcy Parish
The midfielder couldn't have done any more over two ultra-impressive seasons. He is a back-to-back under-18 All Australian, a member of the NAB AFL Academy and has been exceptional in nearly every important game he's played. Parish has dash and skill and is always on the move. He might look like an outside midfielder because of his run and flash, but he works brilliantly at the stoppages and fights above his weight. Towards the end of the season he also showed his overhead marking was developing nicely, and he's a steady kick at goal on the run. His size might see clubs place others ahead of him, but he has achieved more at under-18 level than any other midfielder in this draft. Dyson Heppell aside, Essendon's midfield stocks are quite bare beyond its veterans. Parish would be a smart choice.
WATCH: From farm to fame, Darcy Parish remains a country boy
If not him? The Bombers have said they will be picking the best players with their first two choices and then go for needs with their second-round picks. The aforementioned names should make up the Dons' duo.
Click to read Darcy Parish's profile and watch his highlight reel
Darcy Parish has done everything right over the past two seasons.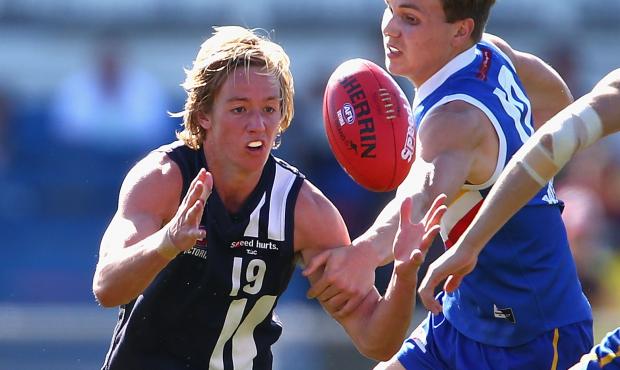 CALLUM AH CHEE
9/10/97, 182cm, 71kg
South Fremantle
Draft Trumps: Meet Callum Ah Chee
Despite an inconsistent season, Ah Chee remains a prodigiously talented player who can do things most other prospects can't. The West Australian half-forward played his best footy this season against senior opposition – for the NAB AFL Academy in April, and for South Fremantle's WAFL side late in the year. He can jump high, take big marks and kick classy goals, and he's also clever at ground level and has some toe. He has run a 2.88-second 20-metre sprint, so has the breakaway speed that few possess. Ah Chee has been linked to the Suns, who lack small forwards on their list. That's the spot where he'll start his career but with an improvement in his tank he should push up the ground in time.
Going Places: Recruiters ask the hard questions of Ah Chee
If not him? Darcy Parish is a chance to still be available if the Dees and Dons overlook him. The Suns have been regularly linked to Wayne Milera, while bigger types Sam Weideman and Aaron Francis might also be hard to pass up at this spot.
Click to read Callum Ah Chee's profile and watch his highlight reel
Callum Ah Chee can do things other draft prospects can't.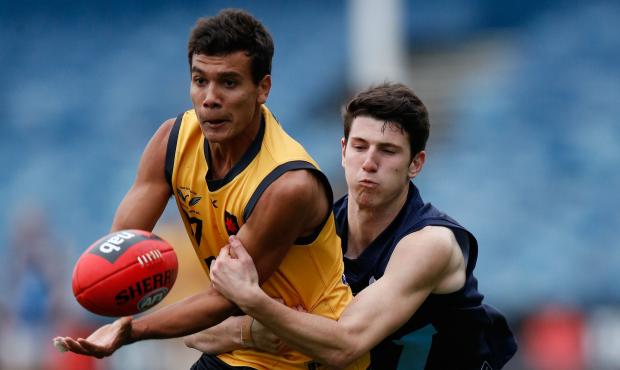 SAM WEIDEMAN
26/6/97, 196cm, 91kg
Eastern Ranges
The supply and demand for key forwards means Weideman was always going to be considered early in this draft despite missing so much footy over the past two years through injury. The imposing and pack-crashing big man kicks straight, knows the forward craft and is hard to beat on the lead. Clubs have done significant work on his body after his ankle issues over the past two years, and his last game this year was in May. But he has been back running for months, last week did a full fitness testing session and although the results were not brilliant, clubs placed more value on his medical assessment. The Demons need a partner for forward Jesse Hogan and traded out their first pick next year, so Weideman would be a good get at this spot.
Footy's in the blood for Sam Weideman
If not him? Midfielders Darcy Parish and Clayton Oliver are possibilities should they fall through and Melbourne flips what it does at No.3 and goes with Weideman earlier. Aaron Francis, should he be available, will be considered too, along with Wayne Milera. Harley Balic is a slim chance.
Click to read Sam Weideman's profile and watch his highlight reel
Sam Weideman has missed plenty of footy but his talent remains attractive.


JACOB HOPPER (matching Carlton's bid)
6/2/97, 186cm, 82kg
North Ballarat Rebels
Draft Trumps: Meet Jacob Hopper
Hopper is a midfielder who changes games through sheer will: he puts his body on the line, is a star at the clearances and enjoys pushing forward to hit the scoreboard. Carlton might be in a position to make a bid on the Giants academy player with its second selection. GWS would slide up from its first pick (which starts the draft at No.10) to take him without their other selections being impacted. Hopper was a standout at the under-18 championships, he carries great potential as a leader, and has the rugged style that imposes himself onto games.
Driven Hopper won't take GWS link for granted

If not him? There's a chance that a bid comes for fellow Giants academy player Matt Kennedy before Hopper. Either way, GWS' first pick should be one of the academy players. They will match the bids.
Click to read Jacob Hopper's profile and watch his highlight reel
Jacob Hopper has produced an outstanding season and will end up a Giant.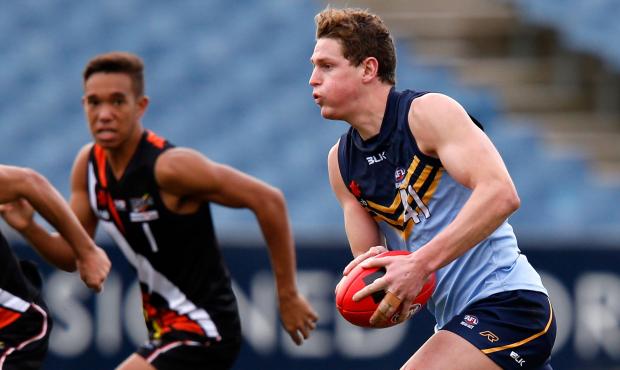 HARRY McKAY
24/12/97, 200cm, 85kg
Gippsland Power
Draft Trumps: Meet Harry McKay

The tall forward has real potential. He burst on to the scene at the start of the year with a four-goal bag at TAC Cup level and continued to show exciting signs. McKay is agile, versatile and likes to get on the lead and take some marks. He will also be able to pinch-hit in the ruck once he builds up his body, which will make him a difficult match-up. He took on this role at stages throughout Vic Country's championships campaign. The Blues have been linked as admirers for some time, and seem a good fit to bring in his talents in their developing forward line.
If not him? If Wayne Milera is still here, would they opt for his class? The Blues must also consider the machinations of taking Charlie Curnow at this point and hoping McKay could get through to their next selection.
Click to read Harry McKay's profile and watch his highlight reel
Harry McKay had recruiters talking with his blistering start to the season.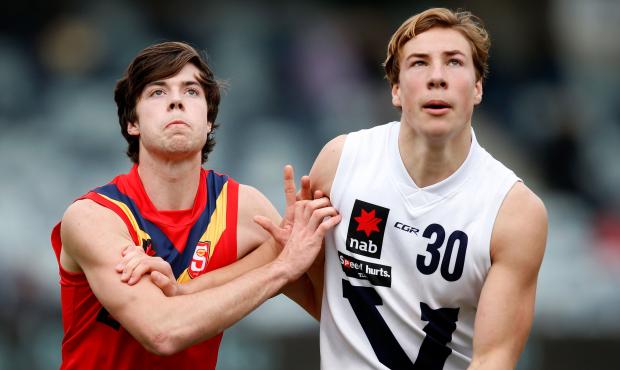 • Want even more vision of this year's draftees? Check out the Draft Machine

MATTHEW KENNEDY (matching Adelaide's bid)
6/4/97, 187cm, 84kg
Collingullie GP/GWS Academy
Draft Trumps: Meet Matthew Kennedy
Kennedy is of the premier midfielders available, but he's really only available to one club: Greater Western Sydney. Although Adelaide is a good chance to make a bid at this point on the tall and strong-marking on-baller, the Giants will have the option to match the bid and take on Kennedy, who has blossomed this season in his first year in the talent pathway. Kennedy missed a large chunk of the year with a knee injury, but he returned at the end of the season and performed well for the Allies on Grand Final day.
Country boy Kennedy lives his footy dream
If not him? There's a chance the bids could be flipped and one comes for Kennedy before Jacob Hopper, but it's only a matter of semantics really. The Giants will match the bids for both players and bring in two of the best midfielders in the pool.
Click to read Matthew Kennedy's profile and watch his highlight reel
Matthew Kennedy has been one of the big improvers of the class of 2015.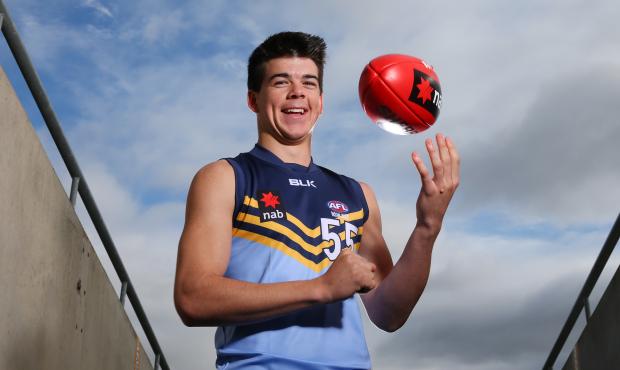 ERIC HIPWOOD (matching Adelaide's bid)
13/9/97, 202cm, 82kg
Aspley/Brisbane Lions Academy
Draft Trumps: Meet Eric Hipwood
Hipwood's versatility makes him an appealing prospect. Throughout this year the 202cm prospect spent plenty of time in attack, where he ran hard on the lead, jumped for his marks and kicked some smart goals. But he was also more than comfortable across centre half-back, where he could use his leap and athleticism to shut down opponents. Adelaide stocked up on a tall defender at last year's draft in Jake Lever but could go again with a bid on Hipwood, however the Brisbane Lions will have first call on matching the bid for their academy player.
If not him? The Lions stocked up on points during the trade period so they could pay for Hipwood. They'll match the bid for him and push up the order. Attaining Hipwood and Josh Schache will give the Lions some first-class tall talent to add to their list.
Click to read Eric Hipwood's profile and watch his highlight reel
At 202cm, Eric Hipwood cuts an imposing figure up forward.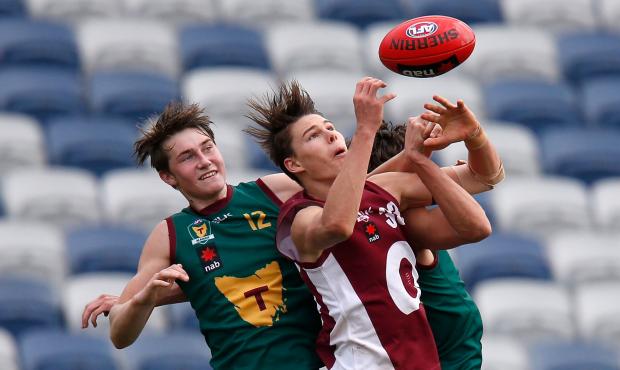 WAYNE MILERA
14/9/97, 185cm, 75kg
Central District
Draft Trumps: Meet Wayne Milera

With a few shimmies and some very nice performances at senior level late in the season, Milera's stocks rocketed in the second half of the season. Some clubs see him as one of the most talented three or four players in the draft, such are his silky skills, smarts and evasiveness in traffic. He just doesn't get caught. Milera will start as a half-forward, but he can also move into the midfield and be used across half-back if required where his ball use sets up the play. He kicked three goals and starred in a senior SANFL final, and has real brilliance. The Crows have seen him develop his game this season and he would add a nice element of polish to their set-up.
Heart scare no impediment to Milera's AFL dream

If not him? It will be a big, big call for the Crows if Milera and Charlie Curnow are both still available. Fellow local Ryan Burton could be a shot here for the Crows, while key defender Kieran Collins might also be in contention at one of their choices.
Click to read Wayne Milera's profile and watch his highlight reel
Wayne Milera's blistering finish to the year has plenty of clubs keen.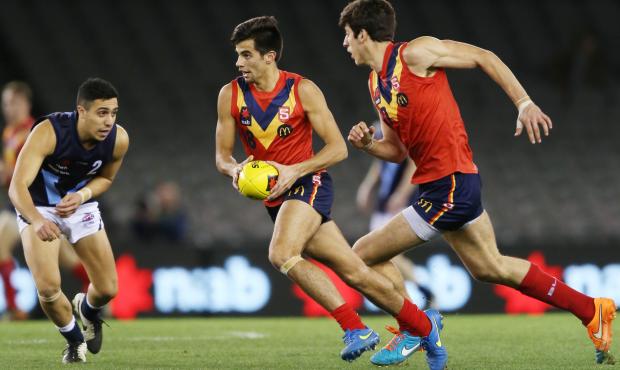 CHARLIE CURNOW
3/2/97, 191cm, 95kg
Geelong Falcons
Draft Trumps: Meet Charlie Curnow

The powerful forward is an interesting prospect due to his capabilities, his positioning and his limited game time across 2015. Curnow started and ended his season playing as a key forward who can take strong marks and hit the scoreboard. In the middle of the year he was about to progress into a midfield role, but he went down with a knee injury and missed the championships. He came back towards the end of the year to show his grunt, and he tested well at the combine with his endurance. Curnow's police incident days before the draft – where he was arrested for allegedly refusing a preliminary breath test – might see him tumble down the order a few spots but he could join brother Ed at the Blues.
Talent manager hopes Curnow's 'poor choice' won't hurt him

If not him? The Blues might be able to flip their strategy to take Curnow with their second pick and hope Harry McKay gets through to here. SA products Wayne Milera and Ryan Burton might also be in the running.
Click to read Charlie Curnow's profile and watch his highlight reel
Charlie Curnow (left) has endurance, power and footy smarts.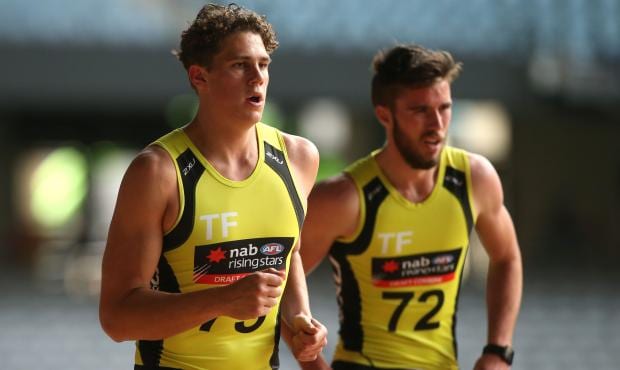 DANIEL RIOLI
16/4/97, 179cm, 65kg
North Ballarat Rebels
WATCH: Another Rioli ready to roll

Given his surname, clubs had already been watching Rioli closely throughout the season. But he really sprang up the draft order with his finish to the year, when Rioli kicked four goals in a TAC Cup final, was among the best players in the Grand Final day curtain-raiser for the Allies, and then tested exceptionally well over the week at the combine. There he underlined his elite mix of speed and endurance, which made clubs look even harder at him as a possible top-20 pick. The Tigers are in need of a crafty small forward and Rioli fits that bill.
Does Daniel Rioli have Uncle Cyril's measure?

If not him? Callum Ah Chee will probably be gone by this point of the draft, but Jade Gresham is another firmly in the mix. Ryan Burton and Harley Balic are others to have been linked with the Tigers.
Click to read Daniel Rioli's profile and watch his highlight reel
Daniel Rioli's athleticism and eye for goal have pushed him up in recruiters' estimation.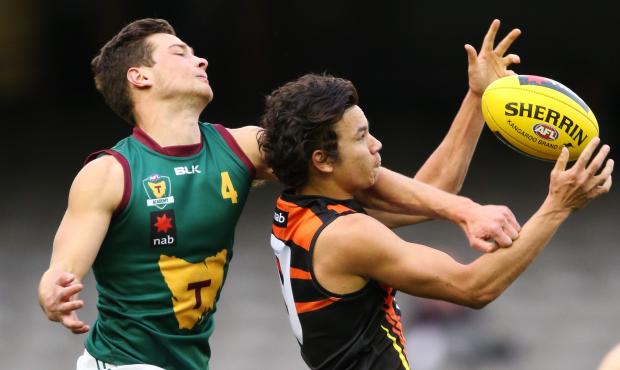 Recomended Articles