Three top 10 Draft picks for NSW?
After the completion of last week's NAB National Draft Combine, afl.com.au's Draft expert Cal Twomey has updated his predicted top 25 picks, with three NSW players in the top ten.
This article originally appeared on afl.com.au
By Cal Twomey
Many recruiters saw last week's NAB AFL Draft Combine as the final piece of the puzzle as they assess this year's talent pool.
So with that now behind us, it is a good time to rank the best 25 players in the draft this year. Remember, this is not a mock draft and does not take into account where clubs have picks. It is simply AFL.com.au's rankings of the best players available.
The Phantom Form Guide will be updated for a fourth and final time closer to the draft in Adelaide, which will be held on November 24.
Weitering has been hard to displace from this position all year. His start to the season against VFL opponents rocketed him to the top of the pool and he has remained there since, showing a cool head dealing with the tag as the likely No.1 draft pick. Across the year he continued to float across packs in defence, take big grabs and then set up the play with his damaging right-foot kicking. At last week's combine, Weitering ran a 15.1 beep test – which puts him in elite territory as a top-end tall prospect.

In a strong field of talls in the early part of this year's draft, Schache stands up as one of the best. Schache did his best work in the first half of the season, but continued to kick goals and set others up for the Murray Bushrangers at TAC Cup level after the under-18 championships. Schache looks likely to be a top-two pick at November's draft and he would be a deserving selection: this year he has added more grunt to his game, and he can run most of his opponents off their feet.

Mills' season ended with another injury, with a hamstring complaint ruling him out of playing on the MCG on Grand Final day for the Allies and from testing at the combine. It was a shame, as a good game on the biggest stage before the premiership decider would have been a nice little reminder of his talents as a competitive, hard-working, strong midfielder. Nonetheless, recruiters saw more than enough last year to know the Sydney Swans academy player sits at the very top of this year's draft pool, notwithstanding the fact he played just three games in 2015.

All of Parish's game-changing qualities were on show in the Geelong Falcons' qualifying final against North Ballarat, when he collected 27 disposals, had seven tackles, five clearances and eight inside-50s. Parish is tough, composed and is a quick-thinker: he hunts the ball, darts away and doesn't take long to make a decision. Parish tested at the combine but didn't stand out in any of the events. That shouldn't be a surprise or a worry. He's a natural footballer and one who steps up a level when the ball is there to get and offers plenty of dash.
Darcy Parish looks on during the combine. Picture: AFL Media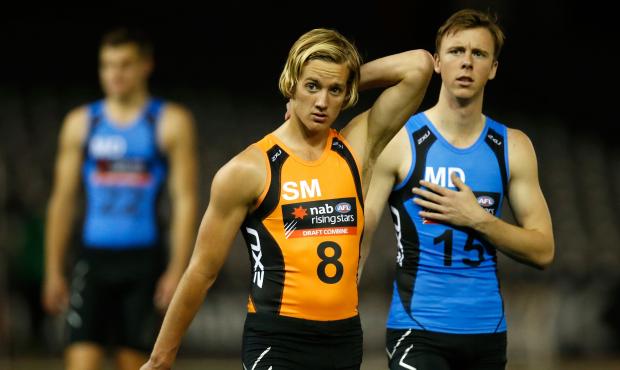 Hopper is a player you can depend on. In the Rebels' finals series he was playing sore but almost willed his side across the line with 27 disposals, two goals and six tackles in their preliminary final defeat to the Oakleigh Chargers. The rugged and strong midfielder is composed overhead, clean by foot and trusty around goal. He sat out of testing at the combine with a groin problem that he had carried through the latter stages of the year. Eligible to join the Giants as academy pick, he'll be in GWS colours next year.

At the start of this season few knew of Kennedy. But after a string of strong early games, he leapt right to the pointy end of the draft as a tall, mobile midfielder who marks well above his head, kicks goals and just keeps doing it. A knee injury saw him miss three months, but he was very impressive at last week's combine, running 14.12 for the beep test, among the best handful in the goalkicking test and inside the top-10 for the vertical jumps.
Academy star Kennedy living the dream

Francis is a jumping, leaping intercept defender who can be damaging in all three areas of the ground. The South Australian was his state's best player during the mid-year championships, and showed his ability to read the ball in the air and also hit the scoreboard when stationed in attack. He will need to continue to build up his aerobic base but has some key essentials, plus an inner competitiveness, that makes him one of the top prospects.

It's been a long couple of years for Weideman, whose injuries have kept him from getting a consistent run at things. Last year he battled an ankle problem that interrupted his start to this year and it resurfaced before the mid-year carnival, forcing him out for the rest of the season. He couldn't test at the combine, but did do a running session one night, which drew the attention of recruiters at Etihad Stadium. Weideman is perhaps the most imposing of the key forwards available. He is big and strong, takes marks, crashes packs and kicks at goal with an uncomplicated style.
Sam Weideman remains one of the top key forward prospects. Picture: AFL Media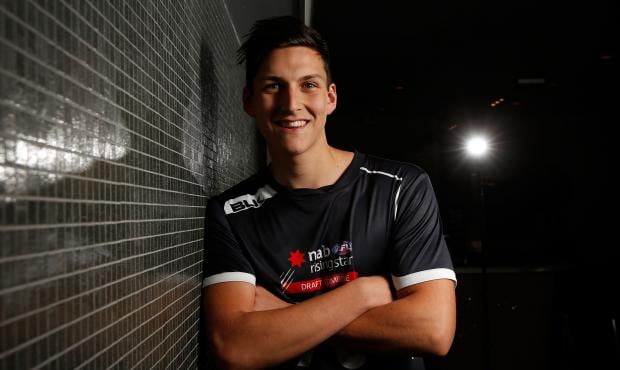 One of the most interesting players of the draft pool, it would have been fascinating to see Curnow play a full year of under-18 footy. Just as he was starting to try his hand in the midfield, the burly forward broke down with a knee injury, which saw him miss a large chunk of the middle of the season. But his impact up forward in the final month of the year for the Falcons thrust him back among the best prospects. At the combine he showed his athleticism, running a 14.5 beep test and 10:24 minute three-kilometre time trial.

Balic's wrist surgery in August saw him unable to complete any testing at the combine, instead spending his time meeting clubs. Plenty like him, because he's able to play in the three different zones of the ground. This year he was used as a half-back, half-forward and midfielder, showing creativity whenever he's in possession. Last year Balic was used for the Sandringham Dragons as a deep forward who worked well in tight spaces. This season he has worked up the ground and made the under-18 All Australian team despite managing the wrist problem throughout the year.

Milera's run of form at senior level has seen him jump up draft boards. The South Australian played some senior footy for Central District in the SANFL earlier this season but it was his performances late in the year which caught the attention. His 25-disposal and five-goal effort against Glenelg was special, particularly having been told by recruiters that week he needed to find more of the ball. He missed Central's first final after undergoing minor heart surgery, but returned with a brilliant display in the semi final. The classy half-forward kicked three goals and sent his team into the preliminary final.
Heart condition can't stop Milera's progress

Probably the most welcome sight at the combine was seeing Burton participating in events after 14 months in the rehab group overcoming the serious leg injury that wiped out his 2015 season. The South Australian half-forward, who has designs on becoming a midfielder, ran 3.09 for the 20-metre sprint and did the three-kilometre time trial in under 12 minutes – a good effort considering his preparation. Burton remains one of the most talented players in the pool: he can jump and take hangers, kick goals on both feet and tends to step up at big moments in games.

You get what you see with Keays. He's a ball-winning midfielder who always seems to be in the action, either pulling the ball out of a stoppage or trying to get on the end of a handball to whisk it away. Keays has had a consistent and terrific two years for Queensland, capped this year in captaining his state to a championships victory and winning back-to-back All Australian honours. As a Brisbane Lions academy player the Lions will have first dibs on Keays, who grew up living in Melbourne. He finished in the top handful for the three-kilometre time trial at the combine.

Few 200cm players can run the 20-metre sprint in 2.97 seconds, but Hipwood showed his rare speed and athletic qualities at the combine. Hipwood is a key defender/forward who plays both positions equally as well and has spent chunks of time at either end this year. He's a nice left-foot kick, he leads hard at the ball and when it's at ground level he knows how to bend over and get it. Hipwood is a member of the Brisbane Lions academy, but appears likely to attract a bid from a rival reasonably early in proceedings next month.
Eric Hipwood showed incredible pace for his size at the combine. Picture: AFL Media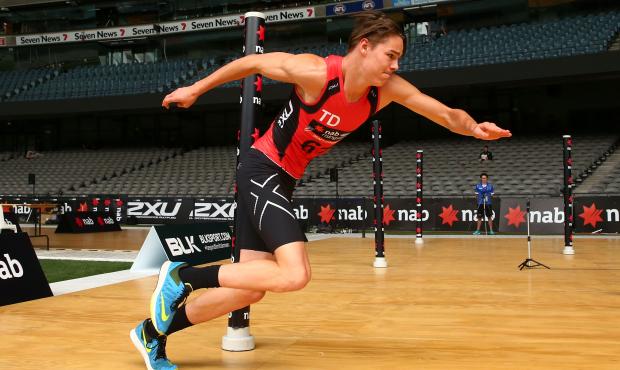 Tucker had a solid season across half-back and at times through the midfield, using his speed and zip to break away and set up the play. The North Ballarat Rebels captain is cool under pressure and is able to size up the moment and find a target with his left-foot kicking. He had a quieter end to the season in the TAC Cup finals with the Rebels, but impressed at the combine, registering the third best beep test of all participants (level 15.3). Tucker also broke three seconds for the 20-metre sprint (2.98) and ran 10:18 in the time trial.

Mathieson's best traits come in his ball hunting. He is another midfielder who is more footballer than athlete, evidenced by his poorer endurance results at the combine. But Mathieson is very good at what he does well: his hands are sharp, he's tough and combative, and he can also take a strong overhead mark. Over the course of his last three years – from under-16s level to this season – Mathieson has stepped up with every level of football he's played and performed well. He should be able to take it into the AFL system as well.

Jumping up to the senior team for South Fremantle was a good thing for Ah Chee in the back-end of the season, where he showed his flair and skill. There aren't too many small forwards like Ah Chee in the first round of this year's draft, with strong speed, goal sense and reliable ball use. He has some work to do on his endurance but he understands that, and in time he looks a good wingman or half-forward at the top level. The recently turned 18-year-old is the younger brother of Port Adelaide's Brendon Ah Chee.

The opening night of the combine saw the prospects' skills put under the microscope, with the goalkicking, kicking and clean hands tests taking place. The quick and polished Gresham stamped his class on all three, being a joint winner of the goalkicking and being not too far behind in the other two events. It summed him up as a player: the small midfielder is great with the ball in his hands, and barely wastes a disposal. Gresham also backed up his work with the ball with a level 14.1 run in the beep test and ran three seconds flat for the 20-metre sprint.
Gresham steals the show at combine's skills testing

Collins might be the second best key defender in the draft pool. Towards the end of the season he played on Josh Schache at TAC Cup level and handled him well, which closed a year where everything went pretty nicely for the Dandenong Stingrays full-back. Importantly this was the season where Collins went from lock-down player to a defender who can provide some offensive drive with his intercept marking, and solid kicking. Collins doesn't turn 18 until December, but is already a mature body who could step into senior football next year.
Kieran Collins has a massive frame for a 17-year-old. Picture: AFL Media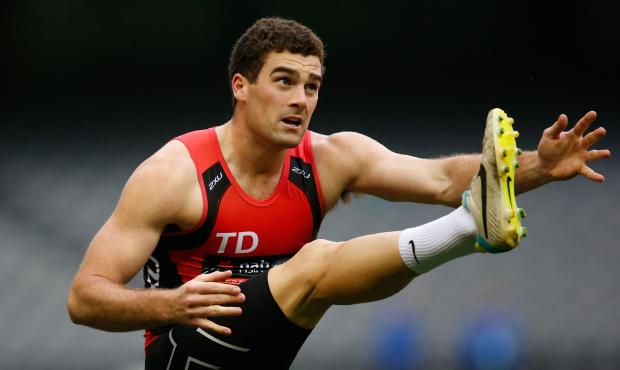 The left-footed key forward had some exciting moments for the Gippsland Power and Vic Country teams he represented this year, which was his first in the talent pathway. At 200cm, McKay will probably be asked to play as a part-time ruckman at stages in the AFL but he has the movement and athleticism to do that. McKay, whose twin Ben is also expected to be drafted, ran 10:58 minutes for the three-kilometre time trial at the combine.

Some injuries and jumping between different teams meant Dunkley didn't manage to quite find his rhythm this season. After a back stress fracture ruled him out for most of the first half of the year, Dunkley returned for the last part of Vic Country's successful under-18 campaign. He then went to play a string of games for Richmond's VFL side before Dunkley returned for Gippsland Power in the TAC Cup. Dunkley is eligible to join the Sydney Swans as a father-son player, but will wait until after the trade period before deciding whether to nominate or enter an open draft.

Bonner couldn't test at the combine as he nursed an ankle injury with a moon boot, which was disappointing given it would have been fun to watch him compete in the skills tests. Bonner's most damaging trait is his left-foot kicking: he can pinpoint short passes, set up the play from half-back with long bombs and is trusty when he's got the ball in his hands. His rebounding work out of defence for South Australia at the under-18 carnival saw him named an All Australian, and given his height he is able to play on smaller and taller forwards when required.
Oliver is a unique prospect in this year's draft. The Morrish medallist is a tough and brutal midfielder who enjoys the harder elements of the game. But he also has some flair, enjoying going forward, taking overhead grabs and kicking a goal. In the final round of the home and away season, Oliver, who missed out on Vic Country's final championship squad, gathered 27 disposals and kicked six goals in a dynamic showing. There is plenty of development left in Oliver, who registered a 2.99-second 20-metre sprint time last week and was third overall in his agility run (8.11 seconds).
Oliver keen for more after Morrish Medal success

Almost singlehandedly Clarke dragged the Eastern Ranges into the TAC Cup Grand Final with a run of form that caught the attention of many. The hard-running midfielder relies on his work ethic to work from one end of the ground to the other, and he likes to reward his efforts by pushing forward and occasionally snagging a goal. Clarke's standout game in the finals was his semi-final, when he had 30 disposals, nine marks, six clearances and 10 inside-50 entries. He ticks a few important boxes as a midfielder who could come into the AFL next year and make an impact.

Hibberd confirmed why recruiters like him as a possible recruit with a range of strong results at the combine. His long-distance running and endurance base was on show in the beep test by finishing second overall with a level 15.4 run, while he also placed in the top-three for the time trial (10:02 minutes). The Tasmanian also won the kicking test, showing poise on both feet, and was among the leading performers in the goalkicking test. Hibberd missed out on last year's draft as he recovered from injury, but has made up for lost time this season as a 19-year-old.
Recomended Articles